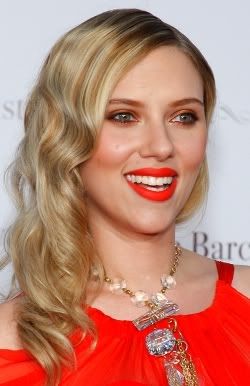 Scarlett Johansson was so stunning in her latest movie, The Avengers, that I can't wait for the movie to be in our vlc media player! Notice her lipstick? It is one of the hottest trends for lipstick this spring and even summer!
1. Orange Lipstick – Take a look at Scarlett Johansson for some inspiration, if you don't believe that an orange lip can be beautiful. This lip is super bright but also softer than a similar red color would be.Pair it with a spring dress or romper and you've got an excellent bright look.
2. Bright Pink Lip Stain – They're easy to wear and, if you're a no-fuss type of gal, you might find them less of a hassle than lipstick. Most stains last at least several hours between applications. Don't forget to exfoliate your lips and moisturize first before applying stain.
3. Coral Lipstick – Coral lips are a great compromise if you're afraid of other bright shades. Coral has just the right combo of red and orange, so you'll be bright without feeling like a stop sign (or tangerine). The look can also be downplayed when running errands after your courses or at the office, if you ditch the bottom eyeliner and keep it light on the blush.
Photo Source: The Gloss (2009)